Did you know?
ChinaBio® Group is a consulting and advisory firm helping life science companies and investors achieve success in China. ChinaBio works with U.S., European and APAC companies and investors seeking partnerships, acquisitions, novel technologies and funding in China.
Free Newsletter
Have the latest stories on China's life science industry delivered to your inbox daily or weekly - free!
Free Report
Week in Review: Grit Bio Raises $60 Million for Tumor-Infiltrating Lymphocyte Drugs
publication date:
Sep 9, 2023
|
author/source:
Richard Daverman, PhD
Deals and Financings
Shanghai Grit Biotechnology, a cell therapy company, raised more than $60 million in a Series B financing round to develop its pipeline of drugs based on Tumor-Infiltrating lymphocytes (see story). The company's lead drug, GT101, has started a pivotal Phase II trial for solid tumor cancers. TIL uses lymphocytes (T cells and B cells) derived from a tumor biopsy, expands them, and infuses the cells back into the patient. Unlike CAR-T therapies, TIL candidates naturally target the tumor, and they typically attack multiple targets in the tumor. The B Round was led by CICC.
Hangzhou Huadong Pharmaceutical continued its M&A activity by acquiring an exclusive license to market a topical psoriasis cream in Greater China that was developed by the UK's MC2 Therapeutics (see story). Huadong will make upfront and regulatory milestone payments of $16 million to MC2 and up to $36 million in sales-based milestones, plus royalties. The product, Wynzora cream, is a fixed-dose combination of calcipotriene and betamethasone dipropionate. Three weeks ago, Huadong in-licensed China-SE Asia rights to a topical steroid-free therapy for immune-mediated skin diseases from Arcutis, a Los Angeles biopharma, in a $94 million deal.
Beijing Biocytogen Pharma (HK: 02315) struck a deal to discover innovative antibody candidates for use with original cytotoxic payloads developed by Myricx Bio, a UK biotech focused on novel selective cytotoxic payloads for antibody drug conjugates (see story). Myricx will provide its proprietary linker and payload while Biocytogen will conjugate them with its RenMice®-derived antibodies to make ADCs. Using its CRO services, Biocytogen will conduct feasibility tests for the ADCs. Myricx has an option to acquire the ADCs and will be responsible for further development and commercialization. Biocytogen will receive an upfront payment and be eligible for milestones and single-digit royalties.
Trials and Approvals
Guangzhou Gloria Biosciences (HK: 2269) was approved to launch its anti-PD-1 mAb, zimberelimab injection, as a second line monotherapy for recurrent or metastatic cervical cancer patients with positive PD-L1 expression (see story). Patients must have progressed on or after platinum-based chemotherapy. Gloria pointed out that zimberelimab is the only immune checkpoint inhibitor antibody approved in China for cervical cancer and the third one globally. Gloria developed the PD-1 in partnership with WuXi Biologics, and the two companies sold ex-China rights to California's Arcus Biosciences in a $818 million agreement.
Beijing Brii Biosciences (HK: 2137) reported positive topline results from an interim analysis of its first-in-class Pre-S1/Pre-S2/S therapeutic vaccine as a therapy for hepatitis B (HBV) (see story). BRII-179 is a novel recombinant, protein-based HBV immunotherapeutic designed to induce enhanced, broad B-cell and T-cell immunity. In 2019, Brii originally signed a $128.5 million agreement with VBI Vaccines of Boston for China rights to the therapeutic vaccine, but then in July of this year, it expanded the rights to global in a $437 million deal.
Neurophth Therapeutics, a Wuhan-San Diego ophthalmology biotech, was approved to start clinical trials in Australia of NFS-05, a gene therapy for Autosomal Dominant Optic Atrophy (ADOA) (see story). ADOA is an autosomal dominant inherited optic neuropathy that causes bilateral, slowly progressing visual impairment. Neurophth points out that the eye is a closed sphere with little effect on the rest of the body, making it a natural target for gene therapies. NFS-05 delivers the OPA1 gene, the cause of 80% of ADOA cases. In August, Neurophth closed a $95 million Series C+ financing.
AnHeart Therapeutics, a New York-Hangzhou biotech, dosed the first patient in a global Phase II trial of safusidenib in patients with mutant isocitrate dehydrogenase 1 (mIDH1) glioma, a common brain cancer (see story). Safusidenib is a novel, oral mIDH1 inhibitor. In a Phase I trial, it has shown high blood-brain barrier penetration along with anti-tumor activity in patients with recurrent IDH1-mutant gliomas. AnHeart acquired global rights (except Japan) to safusidenib in 2020 from Daiichi Sankyo soon after it in-licensed global rights from Daiichi Sankyo for AnHeart's lead drug, a next-gen ROS1-inhibitor currently in pivotal Phase II trials for ROS1-positive NSCLC.
ABM Therapeutics, a Shanghai-San Diego biopharma, started a multicenter China Phase I study of its lead drug in patients with relapsed and drug resistant malignant brain tumors (see story). ABM-1310 is a brain-penetrating small molecule next-gen BRAF inhibitor. In pre-clinical tests, the candidate showed promise for treating cancer metastases in the brain. ABM has two clinical trials of AMB-1310 already under way for BRAF V600X mutated solid tumors: a China trial for melanoma with brain mets and a US study for colorectal cancer. ABM develops small molecule drugs for brain cancers and brain metastases.
Disclosure: none.
ChinaBio® News

Greg Scott Interviewed at BIO-Europe Spring
How to bring your China assets to China in 8 minutes
---

"Mr. Bio in China."
Mendelspod Interview
Multinational pharma held to a higher standard in China
Partner Event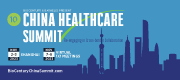 November 2-3, 2023 | Shanghai
November 7-8, 2023 | Digital