Did you know?
ChinaBio® Group is a consulting and advisory firm helping life science companies and investors achieve success in China. ChinaBio works with U.S., European and APAC companies and investors seeking partnerships, acquisitions, novel technologies and funding in China.
Free Newsletter
Have the latest stories on China's life science industry delivered to your inbox daily or weekly - free!
Free Report
Exclusive: The Story Behind How Cirina, a $12 Million Hong Kong Diagnostics Startup, Became Part of Illumina
publication date:
Sep 23, 2020
|
author/source:
Richard Daverman, PhD
On Monday, Illumina (NSDQ: ILMN) offered $8 billion to acquire GRAIL, an Illumina spin-out dedicated to early cancer testing. From its start, GRAIL was set apart by its ambitious goal -- a single test for very early detection of most common cancers -- and by its $2 billion in funding. GRAIL had another advantage: early on, it merged with Cirina, a Hong Kong company that had developed the novel technology that GRAIL would use as its cornerstone for the early detection of cancer. Cirina was backed by Decheng Capital, a healthcare venture capital firm with offices in Silicon Valley and Shanghai. In an exclusive interview, Min Cui, PhD, Founder and Managing Partner of Decheng, told ChinaBio® Today about Decheng's long history with Cirina and how the company came to be part of the $8 billion Illumina-GRAIL deal.
Cirina was founded by Professors Dennis Lo, Rossa Chiu and Allen Chan of the Chinese University of Hong Kong. It developed the methylation technology that is crucial to the success of GRAIL's cancer test. Recognizing the potential of his work, Decheng Capital supplied all of the $12 million in capital that launched Cirina on its path toward success.
Dr. Lo is "one of the most brilliant scientists in the world," said Dr. Cui. In fact, Dr. Lo's inventions had already revolutionized non-invasive prenatal testing, having been adopted in more than 90 countries and used by more than seven million pregnant women every year. He then set his sights on identifying traces of cancer circulating in blood.
"Dennis is truly a pioneer," Dr. Cui continued. "Today the whole world benefits from the success in NIPT, which he discovered. Detecting cancer [early on] when it can be cured, that's an even broader application than NIPT." Explaining his all-in approach to Cirina, he added, "We had strong desire to work with Dennis, and we liked early cancer detection using genomics."
However, according to Dr. Cui, it took time to bring Dr. Lo into the Decheng fold. "Dr. Lo has very high standards. We had to earn his trust." To build that trust, Dr. Cui and Victor Tong, a Decheng Partner, flew to Hong Kong to meet with Dr. Lo more times than they can remember between 2013 and 2015.
"We had to be ready for when he was ready. In 2015, we were having dinner one night without any expectations. But Dr. Lo said he wanted to work with us to build his new company." That was the genesis of Cirina. From there, things moved quickly.
"We won Dennis's trust and had a large ownership in the company," Dr. Cui continued. "At the time, CUHK had not yet issued a license for the technology. We got that done, and we recruited the CEO for the company, whom I worked with when I invested in Ion Torrent System. We also helped the CEO to build a strong team. When they occupied every single Decheng office and conference room, we had to 'kick' them out."
18 months later, Decheng brokered a deal worth "several hundreds of millions of dollars" between Cirina and GRAIL. It, too, came as a surprise, because it came while Dr. Cui was visiting GRAIL for a completely different deal than Cirina.
At the time, he was working on raising venture capital for Cirina with multiple term sheets on the table to complete a large Cirina financing. His vision was that Cirina would remain an independent entity that could becomes a large public company listed in Hong Kong. But "merging with GRAIL enabled Dr. Lo's revolutionary technology to help people globally. One plus one equals to five, in this case" Dr. Cui said.
By then, the trust between Cirina and Decheng was complete. "When we did the Cirina-GRAIL deal, Dennis said to us 'we trust you to do the best deal for all of us,'" Dr. Cui said. "We completed the deal in a month, probably a record time for that magnitude of transaction. There was an NBA finals game on the day we closing the deal. As part of celebration, key team members from Cirina, GRAIL and Decheng were waiting in the bus to go the Warriors-Cavaliers game while Dennis and I were holding the shareholder meeting to approve the transaction. Of course, the Warriors won that night and that year" he said laughing. More importantly, "We are humbled and honored to have a courtside seat to Dennis Lo's scientific creativity and imagination at a precision which is unprecedented," said Mr. Tong.
Continuing the theme of unexpected -- though mutually beneficial -- turns in the story, it's entirely fitting that the Illumina-GRAIL deal was also a surprise. In fact, 12 days before the deal was announced, GRAIL filed for an IPO for NASDAQ listing. Illumina, watching GRAIL make its way toward an IPO, decided it wanted to own GRAIL outright..
For Decheng, the Illumina-GRAIL deal is a very nice reward for its years of supporting Cirina and then GRAIL. Decheng's investment in Cirina has already paid off once through the GRAIL merger, and now will pay again when the takeover closes, and then it becomes the gift that keeps on giving through the ongoing royalty payments.
In addition to the $8 billion purchase price, the royalties on future GRAIL revenues allow GRAIL's shareholders, including Decheng, to participate in the company's success over 12 years. The deal announcement states that the contingent payments consist of a 2.5% royalty on the first $1 billion of GRAIL's revenue each year and 9% on the amount above $1 billion. Added together, this can be multi billions of dollars. Dr. Cui declined to comment on specifics of the deal.
Dr. Cui is proud of Cirina and its home with GRAIL. He believes Cirina added revolutionary technology to GRAIL, technology from Dr. Dennis Lo and the Chinese University of Hong Kong that Decheng was able to help bring to commercial success. With $8 billion upfront and more than that in potential payments, "The Illumina-GRAIL deal is one of the most significant deals in the genomics space," he said. "It places Decheng squarely at the top of the list as one of the most successful investors in novel life science technology from China."
See our other articles on Decheng, GRAIL and Illumina.
Disclosure: none.
ChinaBio® News

Greg Scott Interviewed at BIO-Europe Spring
How to bring your China assets to China in 8 minutes
---

"Mr. Bio in China."
Mendelspod Interview
Multinational pharma held to a higher standard in China
Partner Event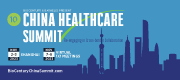 November 2-3, 2023 | Shanghai
November 7-8, 2023 | Digital