Did you know?
ChinaBio® Group is a consulting and advisory firm helping life science companies and investors achieve success in China. ChinaBio works with U.S., European and APAC companies and investors seeking partnerships, acquisitions, novel technologies and funding in China.
Free Newsletter
Have the latest stories on China's life science industry delivered to your inbox daily or weekly - free!
Free Report
Exclusive Interview with Jonathan Wang of OrbiMed Asia: China's Market is a "Once-in-a-Lifetime Opportunity"
publication date:
Jun 18, 2018
|
author/source:
Richard Daverman, PhD
Dr. Jonathan Wang, founding partner and Senior Managing Director of OrbiMed Asia, recently talked with ChinaBio® Today about OrbiMed Asia and its place in China's healthcare investing landscape. Dr. Wang has over 20 years of healthcare investing experience. He holds a PhD in Neurobiology from Columbia University and an MBA from Stanford University.
ChinaBio® Today: Tell us a little about OrbiMed.
Dr. Wang: OrbiMed is a healthcare-dedicated investment firm with 29 years of history. With approximately $13 billion under management, we believe we are one of the largest healthcare-dedicated investment firms in the world. In Asia, we manage roughly $2 billion, combining both private equity and public equity investments. In private equity, OrbiMed Asia has three PE/VC funds, totaling approximately $1.1 billion in committed capital. I work with my partners, Drs David Wang and Sunny Sharma, to manage these funds.
ChinaBio® Today: How many PE/VC investments have you done?
Dr. Wang: Over the last ten years, OrbiMed Asia has invested in about 50 companies in Asia.
ChinaBio® Today: Last year, in September, you closed a $551 million private equity fund.
Dr. Wang: That's our third Asia fund, which we have been investing quite efficiently. The total amount of current and future committed investments is already significantly more than half of the committed capital.
ChinaBio® Today: Can you give a typical example of a VC/PE situation that would interest OrbiMed Asia?
Dr. Wang: We are generally interested in two types of companies: One is innovation-driven, with drug development as a focus, and the other is growth-driven.
For the first type, we usually look for companies with near-IND or clinical-stage drug candidates that address large unmet medical needs. We have invested in a number of such companies, including Zai, CBT, InventisBio, Laekna, and, indirectly, EOC, and we are looking for more. We often seek in-licensing opportunities for these companies from our Western portfolio companies and network.
The second type includes companies with revenues and, in most cases, earnings. We look for sub-sector leaders with highly differentiated and competitive products or services. The management team should have demonstrated a solid track record, including strong revenue and/or earnings growth.
We invest about 80% of our money in growth and the rest in biopharma innovation. Since the per deal size in innovation is smaller, the total number of innovation deals is significant. We are increasing the innovation content in our funds.
ChinaBio® Today: What about exits? How has OrbiMed Asia being doing lately?
Dr. Wang: Years of great teamwork is delivering good results. Over the past ten months or so, OrbiMed Asia has had a total of 10 IPOs and/or exits, with a total value of close to $400 million. These include Zai, which went IPO on NASDAQ, AmoyDX on A-shares, AK Medical on HKEX, and CrowneBio, which IPO'd in Taiwan and was then acquired by a Japanese company. We have had a few exits from trade sales. We are expecting multiple additional significant exits in the near future.
ChinaBio® Today: How would you assess the current landscape for China healthcare and life science investing?
Dr. Wang: I see a big bubble forming right now. The market is very heated. For example, a few companies have raised financings or are planning IPOs at overly high valuations, compared to their counterparts in other markets, such as the US.
On the other hand, I see a very real, unprecedented boom in China's biopharma industry, triggered by the CFDA reform, the influx of returnees to China, the high interest of investors, and the establishment of new exit channels.
I sit on HKEX's Biotech Advisory Panel for the new "pre-revenue" IPO channel. Many people have mixed feelings about the channel--excitement mixed with worry. Some worry that the initial excitement could be met with market corrections due to the gap between high valuations and less than satisfactory drug development results. I believe the new channel is a great thing. It's like a new baby--no one can make sure a baby will always be happy and healthy, but you do not stop giving birth due to the worry.
ChinaBio® Today: How does the bubble affect VC/PE investment? Are prices too high for investors like OrbiMed?
Dr. Wang: Yes, the valuations have increased significantly and the overall pricing is generally much higher than three to four years ago. OrbiMed has been dedicated to healthcare investment for 29 years, and I for over 20 years, so, bubble or not, we are kind of "stuck" in the industry for the long run.
To deal with the bubble, we try to be highly differentiated so that we can enjoy relatively fair valuations. Our global platform and resources have given us significant advantages. Worldwide, OrbiMed has invested in about 500 companies, from which we can introduce products and technology to Chinese companies. OrbiMed is one of the top brand names in the industry and stock markets, which has made us attractive to many successful companies which are planning to go IPO. Frankly, entrepreneurs like to work with investors like us who are "stuck" in the industry for the long run. They prefer investments from investors like OrbiMed who understand their businesses and can add real value.
We try to add value in unique ways. Last week, I invested in a Shanghai-based company called Laekna, which have three clinical-stage oncology compounds in-licensed from a big pharma. Even prior to the investment, we had been helping them scout for drug assets to in-incense. Moving forward, we will certainly continue to use our global resources and network to support Laekna.
Occasionally, we also incubate companies. My venture partner Guoliang Yu and I have incubated CBT Pharmaceuticals from scratch over the past two years. The company is focused on immuno-oncology combos and has about six clinical stage programs underway. It's doing well, and enjoying investors' interest.
ChinaBio® Today: Is it a good time to be a healthcare investor in China?
Dr. Wang: It's a once in a lifetime opportunity. I've been investing in the US and China for about 21 years and have never seen a market like China's today. The stars seem to be aligned over China for the past 18 months or so.
The industry is booming. Over the recent years, there have been a large number of returnees from MNCs and top Western research institutes, who have formed a significant managerial talent pool. The regulatory environment has been dramatically improved as well. The exit channels are open, both NASDAQ and HKEX in the near future. Many local governments are providing support to biotech start-ups in the forms of inexpensive lands/facilities, grants and tax cuts. A lot of money is being pumped into the industry.
China is growing and improving rapidly. I often jokingly tell people China's healthcare industry is living in dog years -- each year is worth seven normal years.
ChinaBio® Today: Should we be worried about the future?
Dr. Wang: The bubble thing is on people's minds, not just mine. Some corrections are likely but the questions are "How soon?" and "How severe?" Some ups and downs are natural for stock markets. The worst case scenario would be a major crash followed by a long-time depression. I would guess this worst case scenario won't happen in China anytime soon. There are some reasons for that.
First, the China boom is driven by the growth of its healthcare market, now number two in the world. There is still a huge unmet medical need in China. In the majority of therapeutic areas, China represents the largest potential patient pool worldwide, which is good for both market demand and clinical trial patient recruitment. Many other countries interested in building a large biotech ecosystem, such as Australia, Singapore, Taiwan and Korea, don't have such a big market. Japan has a large market, but lacks growth and entrepreneurship.
Also, the returnees are a big factor. Many Chinese American biopharma executives who used to live in the US, now live in China. Some of them travel back and forth. You don't see this scale of returnee influx in other countries because their populations and markets are not big enough. The returnees have provided the essential managerial human resources for the boom. They have also brought back advanced technology and world-class know-how, which have been fueling the pipeline.
Moreover, the financing industry supporting China's boom has been growing rapidly. OrbiMed grew from nearly zero to approximately $2 billion invested in Asia in eleven years. China's annual VC investment in healthcare grew more than 11-fold over 2013-17, to $11.7 billion.
With all of these factors combined, there is support for the long-term growth of China's healthcare and life sciences sector. HKEX's new biotech sector may run into some volatility, but I believe there is a reason for a stock market comparable to NASDAQ in Asia in the long run.
ChinaBio® Today: You have been investing for a long time. Do you have any personal goals in investing?
Dr. Wang: About two years ago, I set a personal goal for myself: I want to invest in at least 10 China-created drug candidates that will be approved in worldwide markets within 10 years. "Created in China, for the world" is my slogan.
Ten years, ten drugs, I am really serious about this goal. The companies I have invested in, such as Zai, CBT, InventisBio and Laekna, have drug candidates, but not all of them are going to work out. On average, it takes 10-15 years for a drug to go from discovery to market approval so I am running short on time. Considering all of the factors, I believe I've completed over 70% of my goal. I still have about 20-30% to go.
Thanks for your time and insights, Dr. Wang.
ChinaBio Event
ChinaBio® News

Greg Scott Interviewed at BIO-Europe Spring
How to bring your China assets to China in 8 minutes
---

"Mr. Bio in China."
Mendelspod Interview
Multinational pharma held to a higher standard in China
Other Events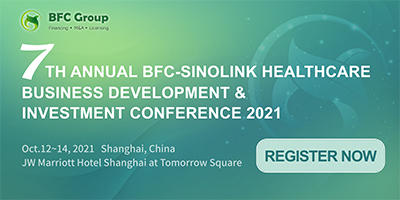 October 12-14, 2021
Shanghai, China