Did you know?
ChinaBio® Group is a consulting and advisory firm helping life science companies and investors achieve success in China. ChinaBio works with U.S., European and APAC companies and investors seeking partnerships, acquisitions, novel technologies and funding in China.
Free Newsletter
Have the latest stories on China's life science industry delivered to your inbox daily or weekly - free!
Free Report
Thomson Reuters: China Leads the World in Pharmaceutical Innovation
publication date:
May 13, 2016
|
author/source:
Richard Daverman, PhD
According to a recently released Thomson Reuters study, China is the global leader of pharmaceutical innovation. The country is successful, Thomson Reuters believes, because it has fostered a healthy mix of partnerships, pharma industry innovation and scientific research. The research is carried out at institutes and fosters collaboration between the government and industry. During 2015, five of the top ten global organizations for filing pharma patents were located in China. Over the period 2005-2015, three of the top ten organizations (including top spot) for publishing papers about drugs and disease were China institutes.

Thomson Reuters' 2016 State of Innovation Report: Disruptive, Game-Changing Innovation compares innovation contributed by major countries in each of 12 technology-based industries. To measure innovative activity, the report analyzes the number of patent filings and the impact of scientific papers published in each industry on a country-by-country basis. The entire report can be downloaded from Thomson Reuters' website (download).
Overall, pharma innovation did not have a particularly good year in 2015, with patents and research publications rising only 4%. Biotech actually fell 2% last year. Nevertheless, China's ranking rose over its already strong performance in previous editions of the Thomson Reuters report.
Thomson Reuters believes pharma's current global success results from "a concoction featuring an increased focus on rare diseases, ongoing development of more convenient Fixed Dose Combination (FDC) regimens and the continuation of the conflict between price versus access to medicines. These, alongside new treatments involving bio-organisms, several new vaccines (such as for malaria and dengue fever) and immune-therapies have given the sector a burst of adrenaline."
That may indeed be true, though rare diseases and fixed dose combinations seem to constitute only a small part of global pharma's health. It seems more likely that the growing application of genomic discoveries to drug therapy and innovative technologies -- CAR-T and other immunotherapies and, maybe down the road, CRISPR come to mind -- are more significant to the growth in pharma innovation.
At any rate, there's innovative work being done on many fronts, so summarizing the action into key sectors is going to be a reductive process, even if it seems to facilitate understanding.
Below are Thomson Reuters results from both patent filings and papers published (ranked according to their impact in terms of citations). Three countries/areas had three entries in the publications (China, the US, the UK), but China also led the list with the most significant citations.

Editor's note: Innovation will be a major topic at the upcoming ChinaBio® Investment Forum (May 18-19, 2016 in Suzhou). One of the panel presentations tackles the subject head-on: Innovation in China: Immuno-oncology. This panel, comprising experienced executives from companies developing innovative immuno-oncology products in China, the US and Europe, will explore China's increasing contribution to the global race to create novel therapeutics. In addition, many of the leading innovative companies will be presenting at the conference, including BeiGene, Hengrui, Luoxin, Shenogen, Zai Lab, etc.


Top 10 Global Innovators -- Pharmaceuticals
1. Roche (Switzerland) -- 351 patents;
2. Jiangnan University (China) -- 320 patents;
3. Zhejiang University (China) -- 274 patents;
4. LG Household and Healthcare (South Korea) -- 270 patents;
5. Foshan Sawiweisi Pharma Technology (China) -- 266 patents;
6. University of California (US) -- 235 patents;
7. Sanofi (France) -- 232 patents;
8. Shanghai Jiaotong University (China) -- 225 patents;
9. CNRS (France ) -- 223 patents;
10. Guangxi University (China) -- 209 patents.


Most Influential Scientific Research Institutions in Pharmaceuticals (2005-2015)
1. Tianjin University (China) -- 325 papers -- 4.97 citation impact;
2. Lundbeck Corp. (Denmark) -- 529 papers -- 3.59 citation impact;
3. Gilead Sciences (US) -- 478 papers -- 3.34 citation impact;
4. World Health Organization (EU) -- 316 papers -- 2.53 citation impact;
5. University of Newcastle (UK) -- 450 papers -- 2.37 citation impact;
6. Chinese Academy of Sciences (China) -- 742 papers -- 2.31 citation impact;
7. Howard Hughes Medical Institute (US) -- 477 papers -- 2.28 citation impact;
8. Guy & St. Thomas; NHS Foundation Trust (UK) -- 762 papers -- 2.21 citation impact;
9. Massachusetts Institute of Technology (US) -- 953 papers -- 2.17 citation impact;
10. Tsinghua University (China) -- 579 papers -- 2.16 citation impact.
Disclosure: none.
ChinaBio Event
ChinaBio® News

Greg Scott Interviewed at BIO-Europe Spring
How to bring your China assets to China in 8 minutes
---

"Mr. Bio in China."
Mendelspod Interview
Multinational pharma held to a higher standard in China
Other Events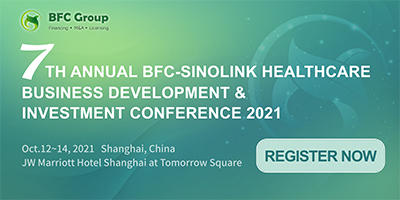 October 12-14, 2021
Shanghai, China