Did you know?
ChinaBio® Group is a consulting and advisory firm helping life science companies and investors achieve success in China. ChinaBio works with U.S., European and APAC companies and investors seeking partnerships, acquisitions, novel technologies and funding in China.
Free Newsletter
Have the latest stories on China's life science industry delivered to your inbox daily or weekly - free!
Free Report
At WuXi AppTec, Partnerships Expedite Drug Development and Approvals: Interview with Dr. Hua Mu
publication date:
May 9, 2016
|
author/source:
Richard Daverman, PhD
With the ChinaBio® Partnering Forum just around the corner, we thought it would be a good time to talk with Dr. Hua Mu, the Senior Vice President and Global Head of the Product Development Service and Partnership (PDSP) Business Unit at WuXi AppTec. For the past two years he has been leading services and partnerships for drug development at WuXi. Dr. Mu has over 20 years of clinical research and development experience at an impressive number of US/global biopharmas. Six years ago, he returned to China, first with Hutchison MediPharma as Chief Medical Officer for four years and then, since 2014, with WuXi. He has been involved in the development of such well-known drugs as Avastin, Abraxane and Xeloda.

ChinaBio: As part of your title at WuXi, you are named Global Head of the PDSP (Product Development Service and Partnership) Business Unit. What does the partnership business unit include?
Dr. Mu: The partnership business is a part of WuXi's product development capability. WuXi is an open-access capability and technology platform company, and our mission is to enable the development and commercialization of novel therapeutics through our R&D and manufacturing platform, and strategic partnerships with leading organizations worldwide. The AstraZeneca/MedImmune partnership fits under this heading, as well as the strategic collaboration with Eli Lilly.
The MedImmune partnership is a 50-50 joint venture. It is to co-develop a novel biologic molecule for autoimmune and inflammatory diseases, targeting rheumatoid arthritis in China. The Lilly collaboration is a co-development/co-investment partnership to develop a novel small molecule for dyslipidemia in the China market.
In both cases, the relationships were formed to advance product development for the partners and ultimately gain faster approval of the products in China. With the MedImmune project, the goal is to form a China entity as the best channel for China development and regulatory approval, via a China standalone development pathway. With the Lilly deal, the structure is a strategic collaboration to pursue parallel development in China and the globe.
The Chinese government's regulatory reforms are expected to drive growth and demand for quality medicines that target major unmet medical needs in China. Usually, big pharmas plan to have their products approved in the US and Europe first, and then take them to China. That means there is a significant amount of time between the US launch and the China launch. It could be as long as a 12-year wait.
Both of the above novel collaboration models are illustrations of our intention to help our partners expedite their product development in the most cost-effective way for the China market. We want to bring the highest levels of innovation to China.
ChinaBio: But with the co-development pathway, you are developing the drug in China as a China product.
Dr. Mu: That is why a foreign company would like to form a partnership with WuXi to pursue drug development and registration more efficiently and more effectively in China. A drug has more encouragement from the CFDA if it is produced in China. The MedImmune's drug was an early-stage development molecule and is now being manufactured and developed by the WuXi-MedImmune JV in China via the domestic drug pathway.
ChinaBio: Last August, there was some speculation about the new classifications of drugs seeking CFDA approval. Particularly, some thought that the Class V drugs -- imported drugs that could be either sponsored by the originator or a non-originator -- would be considered generics.
Dr. Mu: The Class V drugs will not be considered generics, which are Class III and IV drugs in the new classifications. A Class V drug is one that has been approved outside China and is in application for approval in China.
By converting into a domestic drug, a foreign candidate can be developed as a new drug (Class I or II) instead of Class V drug. The former is not required to be approved outside China first.
ChinaBio: What is your plan to continue developing these kinds of relationships going forward? Do you want to have a specific number of projects per year, for example, that you would like to start?
Dr. Mu: These programs are very important to us. The MedImmune project was the first such deal in biologics. Lilly's molecule is very innovative and first-in-class and a chance to pursue parallel global and China development. WuXi will manufacture the drug. If things go well, it is possible that Lilly's dyslipidemia drug will be approved first in China.
These collaboration models are highly reproducible. There are many potential partners who are interested in these projects, and we also have an interest in expanding them.
ChinaBio: WuXi has signed up to be a sponsor of the ChinaBio Partnering Forum, scheduled for May 18-19 in Suzhou. Why is the meeting important for you?
Dr. Mu: The ChinaBio [Partnering Forum] has been very successful. We have witnessed and benefited from its growth, both from a company and a personal perspective. Through ChinaBio I have met friends and partners. Six years ago, when I came back to China, I met Lilly colleagues at a Suzhou ChinaBio Partnering Forum. Our interaction was very productive and led to a collaboration to co-develop a new drug from Hutchison MediPharma. Several years later, I am at WuXi AppTec doing a co-development with Lilly, bringing one of their molecules to China.
ChinaBio: You haven't mentioned yet the recently announced partnership with Juno Therapeutics, the Seattle cancer immunotherapy company.
Dr. Mu: While the MedImmune partnership is for a biologic drug and the Lilly partnership for a small molecule, the partnership with Juno will develop cell-based immunotherapies. Juno has world-class CAR-T and TCR technologies. We are very excited to bring this world-class innovation to China with WuXi's R&D and manufacturing platform and local expertise. Our two companies agreed to form a new company called JW Biotechnology to develop novel cell-based immunotherapies for cancer patients in China.
ChinaBio: Does the regulatory pathway differ for CAR-T therapies?
Dr. Mu: Good point. In the case of drugs, all products are regulated by the CFDA. Cell therapy is different: it is currently considered a new medical technology and administered by China's National Health and Family Planning Commission. That could mean shorter timelines to enter into clinical studies. For a new drug, a company must file an IND/CTA with the CFDA, which takes a longer time to be approved to start a clinical trial. Cell therapy is regarded as a new medical technology, and clinical trial permission will be handled by qualified hospitals.
ChinaBio: Is cost still an advantage for China CROs?
Dr. Mu: China is still less expensive than the US. Several years ago, clinical trial cost in China was about one-fourth of that in US. Now, it is maybe one-half. But cost may not be the most important reason to do development in China. The other advantage is the vast patient pool, enabling a company to enroll patients faster and get unique tumor types and other diseases.
ChinaBio: WuXi seems to be expanding so quickly on so many fronts. What kind of company does WuXi envision itself being in the future?
Dr. Mu: WuXi's dream has never changed during the past 15 years and will remain the same. We want to build the most comprehensive open-access R&D capability and technology platform to fulfill the dream of "every drug can be made and every disease can be treated." WuXi has no intention of becoming a pharma. Our partnerships are an expansion of WuXi's R&D capability and platform to enable anyone and any company to discover and develop healthcare products to benefit patients.
ChinaBio: Thanks. Dr. Mu, for talking with us and sharing your insights.
See our other articles on WuXi AppTec.
Disclosure: ChinaBio has a business relationship with WuXi AppTec.
ChinaBio Event
ChinaBio® News

Greg Scott Interviewed at BIO-Europe Spring
How to bring your China assets to China in 8 minutes
---

"Mr. Bio in China."
Mendelspod Interview
Multinational pharma held to a higher standard in China
Other Events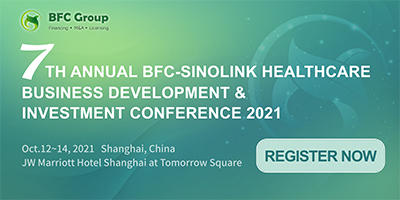 October 12-14, 2021
Shanghai, China