Did you know?
ChinaBio® Group is a consulting and advisory firm helping life science companies and investors achieve success in China. ChinaBio works with U.S., European and APAC companies and investors seeking partnerships, acquisitions, novel technologies and funding in China.
Free Newsletter
Have the latest stories on China's life science industry delivered to your inbox daily or weekly - free!
Free Report
State of China Life Science - 2017H1
Over $10B invested in last 18 months!
Analysis of IND and NDA applications and approvals in China 2011-2017
Download free report on life science investment in China
VC Investment, M&A and Cross-border Partnerships Boom in China Life Science
publication date:
Jan 21, 2013
|
author/source:
Richard Daverman, PhD
China has declared it wants to be the world's leader in drug innovation, and its life science sector made remarkable progress toward becoming a global leader in 2012. "In the world of China life science, VC investment, M&A transactions, partnering activity, especially cross-border deals – all of these metrics were up substantially last year," said Greg B. Scott, CEO and Founder of ChinaBio® LLC, a consulting and advisory firm based in Shanghai.
ChinaBio's research also shows that most of the deal making activity was in support of drug development and commercialization. That's a big change from five years ago, when service companies received the largest amount of investment attention. At that time, the interest in CROs was sparked by a desire to capitalize on China's low drug development costs. In 2012, striking deals for pharma assets has become a primary means of leveraging the burgeoning China market, which is now the number three pharmaceutical market in the world.
Scott made his comments at the Morrison & Foerster/ChinaBio® Executive Leadership Seminar held during the JP Morgan Healthcare Conference in San Francisco on January 8, 2013. The seminar was built around the topic "Leveraging China to Build a Global Biotech Business."
2012 China Life Science Trends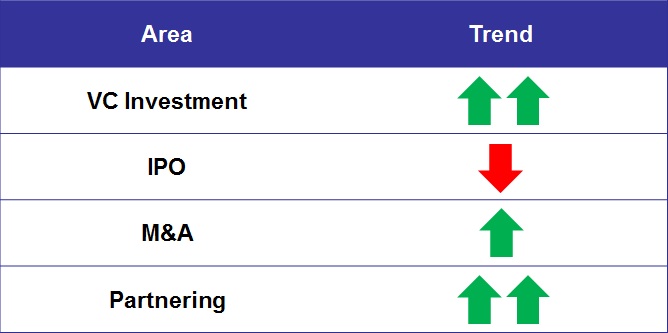 VC Investment
In 2012, VC investment jumped 65% to $946 million. "The most amazing component of the VC results – and this is a theme that runs throughout this year's numbers – is deal size," said Scott. The average investment was $49 million in 2012, almost twice 2011's $25 million. This is significantly larger than the US average of around $7 to $8 million, showing that investors are seeing much more value in China's life science companies."
A second theme in 2012's VC investment data is the prominence of drug and diagnostic companies.: 64% of the invested capital went to drug companies and 30% to diagnostics firms. That left only 3% each for service and medical device enterprises.
"In 2011, a $100 million investment was a big round," said Scott. "We saw two deals over $200 million last year, including the $222 million investment in Shenzhen's BGI (formerly called the Beijing Genomics Institute) by investors that included Sequoia Capital in the US." Other investors in BGI were China Everbright Investment and Shenzhen Capital. BGI will use the capital to make acquisitions and fund its new R&D facilities in China and the US.
IPOs
IPOs were the only investment category that did not follow the dominant 2012 pattern. The numbers were, to put it nicely, disappointing. The total value of IPOs in 2012 was $1.38 billion, a mammoth 74% decline from 2011's $5.22 billion. And the average deal size fell 40% to $112 million from $174 million the previous year. The lower results derived as much from general market conditions as they did from any problems specific to pharma.
There was only one standout deal in the IPO sector during 2012: Shanghai Fosun Pharma garnered $512 million in its Hong Kong IPO. That transaction represented more than one-third of the year's total, Another smaller but interesting deal was Tigermed Consulting, a clinical CRO that had resisted numerous advances from suitors to hold out for its $80 million IPO.
M&A Transactions
Much like the VC numbers, M&A evidenced the same themes: increased total, bigger deal size, and greater concentration of deals in the drug sector. "M&A activity set a new record in 2012, totaling just over $4 billion," said Scott. "While this was only a modest increase of 9% over 2011, the big difference was deal size. The average deal was $116 million last year, versus just $65 million in 2011," Scott continued. "This is putting China on par with the global M&A deals we see."
Not surprisingly, the emphasis in M&A was also on pharmaceutical companies. They captured a full 54% of 2012's M&A total. Service companies took in only 1% of the total deal value last year.
The largest M&A transaction last year was the $1.1 billion spent by China Pharmaceutical Group to acquire Robust Sun Holdings Limited. But perhaps the most notable deals were two cross-border events. Medtronic (NYSE: MDT), the giant US medical device company, paid $816 million to take over Kanghui Medical, an orthopedics maker. According to press reports, Medtronic wanted Kanghui's distribution network as much as its product portfolio.
In an East-buys-West transaction, BGI purchased Complete Genomics of California for $117 million. BGI has founded numerous partnerships with organizations around the world, and this acquisition helps them establish a stronger US presence.
Partnering
Partnering is the final metric tallied by ChinaBio® as a way of divining activity in the life science sector. "Overall activity bounced back in 2012, totaling $558 million, more than doubling 2011's disappointing results," said Scott. "And deal size almost doubled from $13 million to $25 million."
Scott pointed out that co-development and licensing deals have replaced marketing and distribution agreements over the last five years: "As was true in other investing vehicles, drug development is the hottest sector in partnering, comprising 77% of the deals. And we're seeing companies moving up the value chain, seeking later stage drug candidates, although the greatest interest remains in pre-clinical assets, with 47% of the total."
Perhaps the most significant number to come out of ChinaBio's analysis of the 2012 numbers was the number of cross-border deals in the partnership sector: 87% of the total.
"If you look at the larger trends, you see a growing interdependence between China and the West" said Scott. "China needs innovative assets from the West, and Western pharma need the robust market of China. It's a highly synergistic relationship that is driving cross-border activity and the growth of our consulting business" he concluded.
Disclosure: none.
ChinaBio® News

Greg Scott Interviewed at BIO-Europe Spring
How to bring your China assets to China in 8 minutes
---

"Mr. Bio in China."
Mendelspod Interview
Multinational pharma held to a higher standard in China
ChinaBio® Events
Suzhou, China
April 25-26, 2018
Register Now to Enjoy Early Bird Discount!
Partner Events
The 9th China Healthcare Investment Conference