Did you know?
ChinaBio® Group is a consulting and advisory firm helping life science companies and investors achieve success in China. ChinaBio works with U.S., European and APAC companies and investors seeking partnerships, acquisitions, novel technologies and funding in China.
Free Newsletter
Have the latest stories on China's life science industry delivered to your inbox daily or weekly - free!
Free Report
Week in Review: China National Biotec Plans $1.6 Billion Hong Kong IPO
publication date:
Sep 8, 2012
|
author/source:
Richard Daverman, PhD
Deals and Financings
China National Biotec Group, a unit of China's sprawling state-owned pharmaceutical giant, Sinopharm Group, will seek to raise up to 10 billion RMB ($1.6 billion) in a Hong Kong IPO (see
story
). The company was given an OK to stage its previously announced IPO by Hong Kong's environment ministry today. It still needs the blessing of the China Securities Regulatory Commission before it can proceed. China National Biotech is the country's largest provider of vaccines and blood products. No date for the offering has been released so far.
Triplex International Biosciences (China) Co., a Xiamen maker of medical diagnostic reagents and instruments, received a $50 million capital infusion from private-equity firm RRJ Capital (see
story
). According to unnamed sources, the investment will buy a stake in Triplex that is somewhere in the 11% to 19% range. Triplex makes diagnostic tests for hepatitis B and C and various forms of cancer. RRJ Capital is based in Hong Kong and Singapore.
Events
The thirteenth ChinaBio® Investor Forum selected two early stage life science companies as the "Most Promising" of the 18 presenting companies: Optomed Oy from Finland and ASLAN Pharmaceuticals from Singapore (see
story
). The ChinaBio event, which was held September 4-6, brought together more than 160 attendees from Finland, China, the US, Canada, Singapore, and Switzerland.
CRO/CMO News
WuXi PharmaTech (NYSE:
WX
) and Open Monoclonal Technology of California reached an agreement that allows WuXi to use OMT's OmniRat, a transgenic rat, to develop therapeutic antibody candidates for WuXi's clients (see
story
). According to the two companies, OmniRat generates fully human antibodies with great specificity, affinity and manufacturability. It eliminates time-consuming humanization of traditional mouse-derived antibodies and the need for optimization of lead candidates using phage display technology.
Company News
China Medical Technologies Inc. (NSDQ:
CMEDY
), a company that makes diagnostic products, has no assets anywhere in the world, outside of perhaps the Cayman Islands, according to an official liquidator of the company (see
story
). In the year ended March 31, 2011, China Medical reported revenues of $129 million and cash reserves of $172 million. During the last year, the company has "gone dark" – it has not made any of its required filings, nor has it made any of its regular debt payments.

Trials and Approvals
Dainippon Sumitomo Pharma Co. of Osaka, Japan submitted an imported drug registration application to the SFDA in China for amrubicin HCI, an antibiotic, as a treatment for small cell cancer (see
story
). The drug has been approved for use in Japan since 2002, where it is called Calsed. Dainippon Sumitomo has completed a Phase III trial of the drug among China patients.
Disclosure: none.
Upcoming event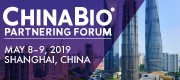 Shanghai , China
ChinaBio® News

Greg Scott Interviewed at BIO-Europe Spring
How to bring your China assets to China in 8 minutes
---

"Mr. Bio in China."
Mendelspod Interview
Multinational pharma held to a higher standard in China