Did you know?
ChinaBio® Group is a consulting and advisory firm helping life science companies and investors achieve success in China. ChinaBio works with U.S., European and APAC companies and investors seeking partnerships, acquisitions, novel technologies and funding in China.
Free Newsletter
Have the latest stories on China's life science industry delivered to your inbox daily or weekly - free!
Free Report
State of China Life Science - 2017H1
Over $10B invested in last 18 months!
Analysis of IND and NDA applications and approvals in China 2011-2017
Download free report on life science investment in China
2010 to Set Record for VC Investment in China Life Science
publication date:
Nov 12, 2010
|
author/source:
Richard Daverman, PhD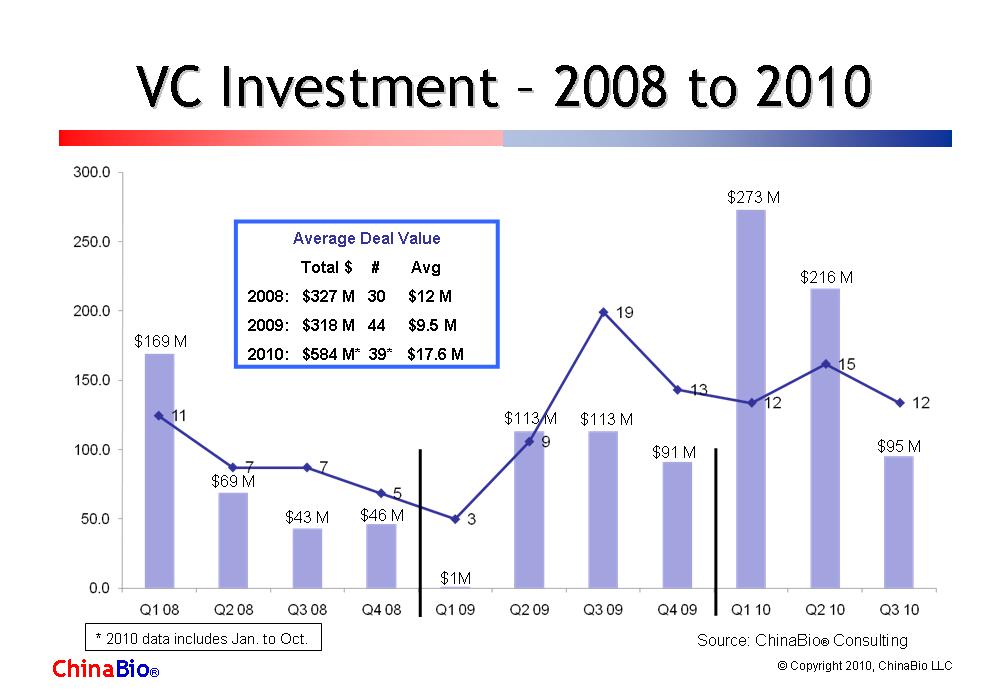 "Venture capital investment in China life science in 2010 will reach new highs," said Greg Scott, CEO and Founder of ChinaBio® LLC, "reaching almost $700 million. More than half of that will go towards drug development," he added. To put that in context, the prior high was $400 million in reported fundings in 2007. In between 2007 and 2010, the financial crisis reduced that number.
Scott made his comments in his address "The State of China Biotech," which he delivered to the third BioBay Investor Forum, held November 3-4 in the BioBay life science park in Suzhou, China. The event was organized by ChinaBio® LLC and BioBay.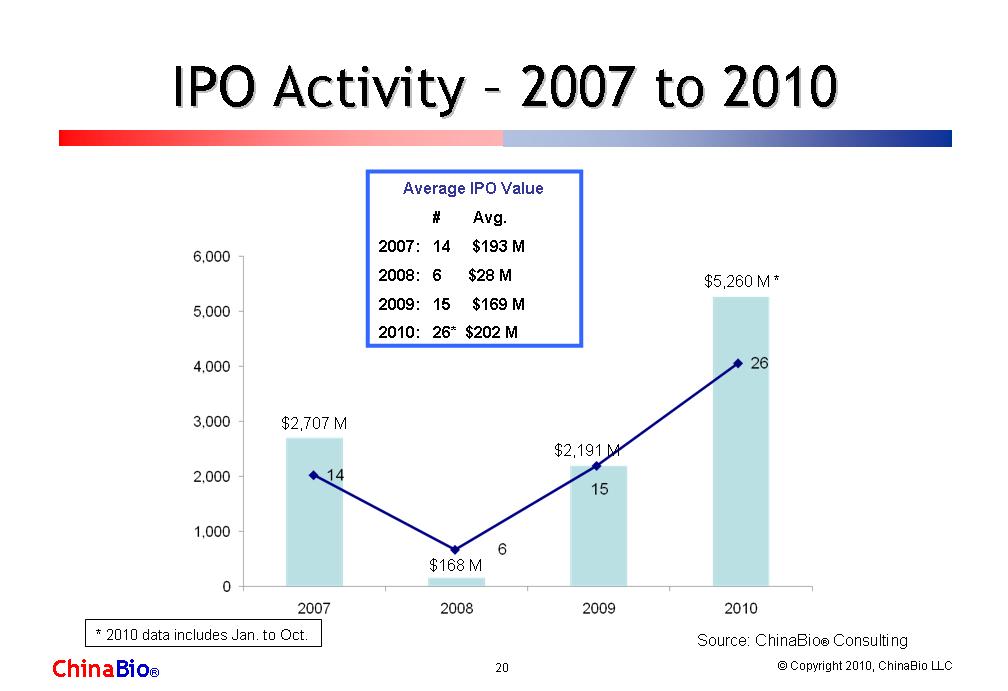 Another sign of vibrancy in China's life science industry is its robust dealmaking. 2010 is already the best year for IPOs from the sector. Companies have raised $5.3 billion in 26 offerings, $3.9 billion of which went into drug companies. The average offering size was $202 million. For the most part, these were established companies that have a strong base in generic products. However, many of these firms are also developing novel drug candidates.
"We expect these positive exits for investors to stimulate further venture capitalist investments," said Scott.
M&A is also doing well, with just over $1 billion of deals announced so far this year, though this lags the $1.8 billion recorded in 2008. The year would have easily set a record if the $1.6 billion acquisition of WuXi PharmaTech (NYSE: WX) by Charles River Labs (NYSE: CRL) had been completed.
In his address, Scott attributed the strength of China life science to a number of factors, some well known, while others are less recognized. China's low cost structure is no surprise, but the increasing amount of innovation has received less press coverage. Patents are one way of measuring the emphasis on new drug development. ChinaBio® research indicates the patents granted for new drug molecules, now at 2,500, has jumped 12 fold since 2000, an average growth of 36.5% per year, indicating that the world can expect novel drugs from China to be on the market in the near future.
The biggest financial sponsor of life science research remains China's government. The Mega New Drug Development program will make $12 billion available over the next five years. To date, over $1 billion has been allocated to 53 institutions under the program, and ChinaBio® has identified recipients for 80% of the grants.
The Mega New Drug Development Program is the most spectacular of any single government stimulus, but individual provincial and municipal governments add to the support by sponsoring local companies. ChinaBio has identified over 160 additional government funding programs that offer between $150,000 and $50 million in funding per project. These programs can be from central, provincial and municipal government agencies, as well as the many life science industry parks throughout China.
Another factor in the growth of China's life science industry is the Hai Gui, or sea turtles, the scientists who received some part of their education in the West and then found jobs there. This phenomenon shows no sign of abating. In fact, during 2009, the number of returnees grew by 56% to 108,000, and half of all returnees – 250,000 – have arrived in the last four years.
"All indicators – the IPOs, the M&A, the new patents, the government support, the returnees – show continued growth for China life science," said Scott, summing up. "Internal factors, including 9% growth in China's GDP this year and $124 billion being pumped into healthcare reform, will also drive the sector higher," he concluded.
ChinaBio® News

Greg Scott Interviewed at BIO-Europe Spring
How to bring your China assets to China in 8 minutes
---

"Mr. Bio in China."
Mendelspod Interview
Multinational pharma held to a higher standard in China