Did you know?
ChinaBio® Group is a consulting and advisory firm helping life science companies and investors achieve success in China. ChinaBio works with U.S., European and APAC companies and investors seeking partnerships, acquisitions, novel technologies and funding in China.
Free Newsletter
Have the latest stories on China's life science industry delivered to your inbox daily or weekly - free!
Free Report
State of China Life Science - 2017H1
Over $10B invested in last 18 months!
Analysis of IND and NDA applications and approvals in China 2011-2017
Download free report on life science investment in China
JOINN Takes Big Leap into China's CRO Future
publication date:
Nov 8, 2009
|
author/source:
Richard Daverman, PhD
JOINN Laboratories (昭衍新药研究中心有限公司) has a very specific vision of the future for CROs in China. "We expect a huge increase in demand for CRO services," said John Gong, PhD, VP and CTO of JOINN in an exclusive interview with ChinaBio® Today. "In the near future, pharma will outsource 75% of its pre-clinical work, up from a level of about 25% today."

Much of that outsourcing work will be done in China, in Gong's view. "Human talent, competitive pricing and an endless supply of animals – all these features of the China CRO landscape come together to make China very competitive," he continued.

Despite that optimistic overview, Gong feels that the current situation has a potential problem. The large number of relatively small, recently formed CROs has created over-capacity in the niche. In fact, ChinaBio's research group has identified over 260 CROs located in China.

The over-capacity is not just a temporary situation. These smaller CROs may not be suited to serve the growing needs of big pharma, which generally prefer to do business with a large organization that is capable of taking on multiple projects. Gong thinks big pharmas may seek to source all their work with a single CRO that can provide a full range of services.

"When the economy starts to improve, big pharma will increase its outsourcing," he declared. "Currently, China CROs tend to be rather small, and they do not have the capacity to be competitive in the new market we see ahead in just a few years."

JOINN plans to specifically position itself to prosper in the future CRO environment by serving large, multinational pharmaceutical companies. "We would like to have preferred relationships with large pharma where we do 10-20 projects for a single company and have guaranteed income and maybe have a dedicated building for them," he said.

A New 1.2 Million Square Foot Facility

To compete for these major contracts, JOINN has put in motion a very ambitious plan to transform itself into one of the leading pre-clinical CROs in China. The company has begun construction on a 1.2 million square foot facility in Taicang, Suzhou in Jiangsu Province, about an hour from Shanghai where many big pharma have facilities.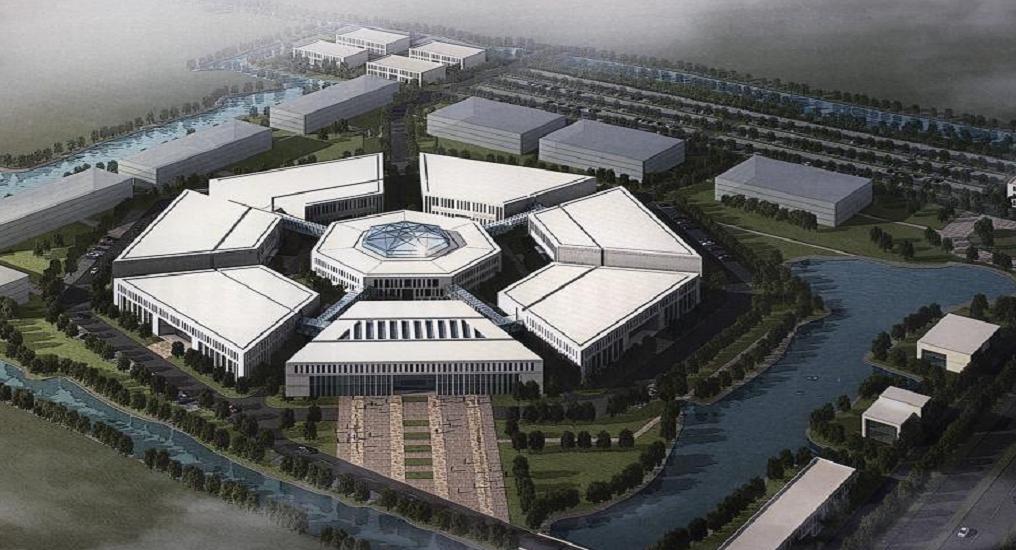 Heptagon-shaped, the structure is composed of seven buildings built around the perimeter and an eighth building in the center. The center building will house a central laboratory and other shared operations. To improve isolation, each of the seven outside buildings will house a separate animal species, and most employees will be limited to working in a single building. However, corridors will link these buildings, making a trip around the campus a weather-proof experience.

It is a major facility that appears to be very impressive, as the artist's drawing shows. Greg Scott, our Executive Editor, recently visited the construction site in Taicang and commented, "ChinaBio has visited over 40 CROs in China, and JOINN's facility will be the largest, most unique facility we know of here," said Scott. "The scope of the construction is truly amazing."

Phase I represents the first 600,000 square feet with construction scheduled to be finished in February of 2010, after which equipment will be installed and testing can begin. JOINN expects to the facility to be operational toward the end of 2010 or the beginning of 2011.

To JOINN, the new facility is exactly what the future will require. "Currently, we have only 50,000 square feet, which is too small to be competitive," Gong explained. "We want to have a huge area and many employees."

Once the facility is fully operational, JOINN projects that its employee count will rise from 180 to 1800, a ten-fold increase. If you think they are anything less than totally serious, their website indicates otherwise: the company is already advertising openings for 57 professional employees.

All this takes money, of course, not just for the actual construction, but also to fund startup operations until revenues can support this large, expensive facility. But Gong doesn't seem worried about the capital. JOINN is owned by a few insiders and investors with, apparently, seriously deep pockets. "We have adequate cash from our investors to maintain operations for three years," he declares simply. "We are confident in our decision."

History of the Company

JOINN was established in 1995. It has been granted accreditation by the AAALAC, GLP certified by the SFDA and inspected by the FDA. Perhaps most impressively, they supported the first full IND submission accepted (and approved) by the FDA from a China pharmaceutical company. JOINN is in full compliance with international GLP regulations, offering a wide range of pre-clinical drug development services.

Dr. Gong believes that the company's GLP status is a big selling point. "Ten years ago in China, GLP was a distant goal. When the FDA came and visited our facility and other CROs, they were very pleased with what they saw," Gong said.

Dr. Gong is also quick to point out that another major selling point for the company is quality, which is absolutely central to JOINN's mission. "JOINN is not a low-cost alternative. We want to provide US level services at a lower cost and with a guaranteed timeline. As a result, our current price structure is higher than many other China CROs. We are aimed at clients who are seeking FDA approvals – those are the customer we are looking for," he added.

However, some price advantage over western CROs is necessary. Gong believes China's cost structure will rise in the next few years and the country's price advantage will gradually diminish. Still, he believes it will take a very long time before China's costs are equal to those found in the US.

In the four years spanning 2005-2008, JOINN evaluated a total of 171 compounds: 108 biologics, 59 chemical and 4 botanicals. Over 90% of the compounds came from domestic China companies. But JOINN is committed to making an impact on US biopharmas in the future.

US Office

In fact, in October of 2008, JOINN opened an office in the US, sited in Germantown, Maryland near the FDA's offices in Washington, DC. The US office offers custom service to clients in the west, providing a local presence and eliminating the difficulty of dealing with the time difference between the West and China.

"The US office also provides regulatory services for companies in China, helping them with NDAs and drug regulatory questions in the US," said Gong.

One of the reasons Gong was recruited to join JOINN was his familiarity with the FDA as he worked in the agency for ten years. He was a Toxicology and Pharmacology Reviewer in the Center for Drug Evaluation and Research (CDER), with special interest in diabetes, obesity and lipid-lowering drugs, three of the hottest areas in western drug research.

Dr. Gong's career has roots in China as well. He received a medical degree from Beijing Medical College in 1984, before coming to the US in 1990 and receiving a PhD in Toxicology from New York University in 1996.

Conclusion

JOINN is a phonetic spelling of the two Chinese characters that make up the company's name, 昭衍 (zhao yan), characters that mean "bringing hope to human beings and improving people's health" and "we will become bigger and stronger." That seems like an appropriate description of JOINN: a well-established company with a fifteen-year history that may now be poised to make a dramatic leap into the future with its impressive new facility.

Disclosure: none.




ChinaBio® News

Greg Scott Interviewed at BIO-Europe Spring
How to bring your China assets to China in 8 minutes
---

"Mr. Bio in China."
Mendelspod Interview
Multinational pharma held to a higher standard in China